Future Tourism: Political, Social and Economic Challenges
Автор: Leigh, J., C. Webster and S. Ivanov (eds.)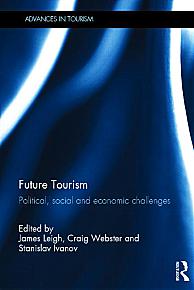 Future Tourism: Political, Social and Economic Challenges, London: Routledge (ISBN: 978-0-415-50902-2)
This book investigates and considers the urgent political, social, and economic challenges that confront society and tourism. It attempts to look at what is threatening society, and makes suggestions on what the impact will be and how tourism will be changed to integrate with the new socio-economics of a newly emerging society with its novel peculiar challenges and opportunities in a post-energy era.
The book draws on the views of leading thinkers in tourism and considers a broad range of issues from multidisciplinary perspectives facing the tourism industry for the first time in one volume: dwindling energy, new technology, security (like war and terrorism), political economy, sustainability, and human resources. By critically reviewing these social and economic challenges in a global scale, the book helps to create a comprehensive view of future tourism in the unfolding and challenging society of the third millennium.
This innovative and significant volume will be valuable reading for all current and future tourism professionals.
Table of contents:
1 Introduction: What future for tourism?
CRAIG WEBSTER AND JAMES LEIGH
PART I
Global changes and their impact on future tourism
2 'Peak Oil' confronts society and tourism: A futuristic view
JAMES LEIGH
3 The political economy of tourism in the future
CRAIG WEBSTER AND STANISLAV IVANOV
PART II
Political and social trends and future tourism
4 Security and the future of tourism
MICHAEL CLANCY
5 Wellbeing, equity, sustainable development and social
tourism in twenty-first century Europe
CHRIS STONE
6 Shapers and shifters for the future of travel and tourism
SUSANNE BECKEN
7 Tourism and quality of life
NICOS KARTAKOULLIS, GEORGE KARLIS, KOSTAS KARADAKIS,
AMANDA SHARAF, AND CRAIG WEBSTER
8 Through a glass darkly: The future of tourism is personal
C. MICHAEL HALL
PART III
Managerial issues and future tourism
9 Tourism in a technology-dependent world
ULRIKE GRETZEL
10 Human resource issues in the new millennium
SCOTT RICHARDSON
11 Sustainability: An issue for the tourism industry in the
new millennium?
WERNER GRONAU
12 Tomorrow's tourist and the case study of New Zealand
IAN YEOMAN
PART IV
Concluding thoughts
13 Future tourism: Where to now?
JAMES LEIGH AND CRAIG WEBSTER