New Year´s Eve in Lao Niu Wan
Автор: Jörg Hein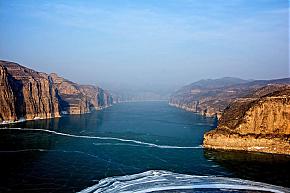 New Year´s Eve in Lao Niu Wan
Hi everyone, my name is Jörg. I am from Berlin, living in Sofia after spending four years in Beijing.
During my time in China I was teaching German, collaborated with one of Beijing´s most highly regarded universities for foreign languages and lent my voice to a Chinese-German TV channel. One of the most important things though was traveling this most interesting country. Here I will give you an impression how China feels far away from big cities. Be sure there is a lot of things to explore. Join me!
Self-Presentation Jörg Hein
I was born in Berlin where I have seen the wall falling down, where I started to study history and religion and where I spend the most time of my life until 2007.
After a few months in Bulgaria´s capital Sofia, I moved to China and there I spend four years. Not a long time, one may think. However, it´s not a question of time but of impression and experience that builds one´s mind. Imagine you are in a foreign country you don´t know much about it in the beginning. Then suddenly the new place where you live at is in the world´s focus. This happened 2008 when I moved to Beijing just two weeks before the Olympic Games started.
Now, what was it that made my view to this most interesting country? At first I was taught German, collaborated with one of Beijing´s most highly regarded universities for foreign languages, I lent my voice for a Chinese-German TV project and every now and then I worked for a Chinese IT company as a freelancer. So far in theory. The important thing here is coping with everyday life through interaction with local people, disputes at time and friendship much more often.
New Year's Eve at Laoniuwan
What drives a laowai (Chinese for foreigner) to spend New Year's Eve far away from friends and peers? "You will spend that night in the province? Man, it's very, very cold there and you will miss all the cool parties here in Beijing. You must be crazy!" commented one of my friends. Maybe I am. For sure I'm also interested in travelling, discovering, taking pictures and finding out more. About cool parties I know a lot. But what about places far away from Beijing?
China Great Wall International Hiking Club offered me to join a trip to Laoniuwan in Shanxi province. I liked their idea of spending New Year's Eve there, walking on the iced Yellow River, hiking the Great Wall and living amongst local people. If that sounds crazy, a reason for that could be simple: One doesn't know much about China and can not imagine what it is like spending New Year's Eve far away from friends and peers.
Let's see how it is like and try to find out a bit more.
As I mentioned above, we were living amongst local people. In their homes? Yes, in their homes! They welcomed us with all their heart and soul. That was my feeling. I don't speak that much good Chinese, so I had to read their mind. Not speaking Chinese and reading someones mind – that was my survival most of the time. Being the only laowai from Europe was a real adventure. But it worked well for all of us. Finally I was able to bring out a toast to our host. A Chinese friend, my smartphone and a good portion of
baijiu (Chinese for hard spirit) helped me with that. We became kind of family and there was nothing to miss at all. So I took my camera, smoked a cigarette and made this photograph. I just felt in the mood to do so.
There was more to come of course. For Chinese people, New Year's Eve becomes more and more important. So we gathered at a very interesting place: At one side there was a small temple. Some prayed to a local godhead and sacrificed incense. On the other side there was a stage. In between everyone tried to stay close to a warming fire. Yes, it was damn cold that night! So my deep respect goes to the actors. Look at them and imagine it was about minus 15 degree. Awesome! For every foreign photographer, this one is a beauty.
This night I made friends with some Chinese. I was so happy about my impressions and my shot so there were lots of things to talk about. That way I was told, that my beauty is about a local opera style.
Next morning I got up quite early. I took my camera and went for a walk. Just a few steps. It took not more than these few steps and I felt the inherent natural beauty of this place. Quiet, peaceful and just simple. It was that moment when the final hour starts for the moon and the stars and the sun is up to rise. The firmament is wrapped in a kind of magic light that makes everything to appear in an unusual way. How I enjoyed to go these few steps! Would I try to do this in Beijing? No, I wouldn't because I know it is impossible there.
During the night of New Year's Eve it was really, really dark. Again, we are not in Beijing with its thousands of lights everywhere around! I had to use my flashgun but was not satisfied with the results. So again we did some shots in the morning sun as we rang the bell to welcome 2012. Don't ask me how, but they managed to borrow a bell from a monastery. I have seen bells like this before, of
course, and every time I see them they remind me on a knight's helmet. I'm kidding. Of course I know about the meaning of lotos and chrysanthemum that we can find in the floral patterns.
Fun went on as we gathered for a joint photo in front of an old watch tower. All the people there chanted out "Happy New Year from Laoniuwan". In Chinese of course. Although I can speak a little bit, that was too much for me. Somehow I understood the words, but my tongue was not able to follow. I decided to do, let's say, the best I could: Taking pictures.
When I thought I have almost died on exposure it finally began! We followed Bruce who turned out to be a real good pathfinder. First, he led us down to the iced Yellow River. The path was quite steep. That means high heels wouldn't have been appropriate. I'm saying this because I have seen ladies worrying about pain in their feet at Badaling Great Wall. But Laoniuwan was for real hikers and those who are after a bit of thrill. Just have a look at the cliff in the background!
This photo I took half the way down to the river. I didn't feel cold anymore and I stopped for a moment just to enjoy the view. Now it's getting interesting: A Chinese friend told me that there is a play upon words in Chinese language. "Walking on the ice" is homophone to "Dispel diseases". To do so must be a good omen for the new year even if it looks challenging. And it was a challenge! Down there in the canyon one can hear the floes making noise. They seem to move a bit. Close to the shore the ice is not thick enough to carry one's weight. We had to balance on a tree trunk to pass the thin ice. Wow, what a strange feeling!
From the deep canyons our way led us up to the mountains. Sometimes it was more mountaineering than hiking and so I started to sweat. Well, I'm not that kind of fitness junkie although we have a stepper at home. By the way, my boots, pants and even my camera collected quite a lot of dust. Everything became kind of yellow like the loess all the way around there. And not only the mountains are of this yellow loess, the watch tower we can see here is loess as well. I was told that all the towers as well as the Great Wall were built during Ming Dynasty. Now one may ask where is the Great Wall. Look at the right hand side. There it is! Not easy to find at first sight, that's true.
Here in this picture, the Great Wall is quite easy to find, isn't it? When I figured out the different face of the Great Wall there in Laoniuwan I was able to see with new eyes. To put my findings in a more poetic word: The Great Wall is made of Chinese soil. That may explain the fellowship of Chinese people to the Great Wall. Looking with new eyes even for me both the Great Wall and the landscape appear to be one. They are bounded and so the Great Wall is part of the Chinese homeland. I haven't been to a place where
this conclusion appears more evident than there in Laoniuwan. These findings make me think about images of the Great Wall in a different way. May they look interesting, boring, because one has seen enough, or even trashy: All of them include this unique spirit of Chinese homeland.
These days, the ice was covered with loess. When the ice starts to melt the dust will dissolve in the river turning it into yellow. That means there is history within the Yellow River. Everything that was build comes from that Chinese soil and everything that has been in the past left its traces there. By a gust of the wind this soil becomes part of the river and crosses the country. I think that makes the significance of the Yellow River for Chinese people. Now one can understand the magic of Laoniuwan. So far there have been lots of things to learn and to discover. That makes me understand the real Chinese heart and soul.